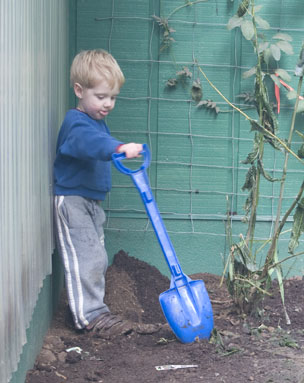 My nieces and nephews called me "Andaree" when they couldn't quite say "Aunt Marie".  Now grandson Coven is calling me "DammaRee."  It's moniker I never expected to have, but the joy when I hear it is so far beyond anything else!  The experience of being a Grandmother is just great – I love it!
Coven came to between Christmas and New Years.  His first "by myself" trip.  Jere went to Portland and picked up Coven along with his daughters who flew in from Florida and I flew him up to Portland (thank goodness for Frequent Flyer Miles!) on New Years Day.
In between was a week of not enough sleep, honing my mother-antenna and getting those eyes in the back of my head working again.  It was so fun most of the time!
Since we live on a ranch, there's lots of very safe outdoors for a boy to explore.  It rained a lot of the time, so we did indoor things, but we did have one really nice day.  Coven tried to get me to play baseball with him, but honestly, he's a better pitcher AND catcher than I am, so that didn't do well.  Instead, he gathered his shovel and rake and started on the flowerbed.  To his tribute, he dug only in between the plants and didn't hurt any of them.  He worked HARD at it, before it was finally time for dinner.
I am so looking forward to his next visit!