Recently I attended (and presided over) the Coos Curry Small Woodlands Annual Meeting and Dinner.  We have them every year in February.  It's a great time to have an evening out and meet up with other small woodland owners, most of whom I see just this one time each year.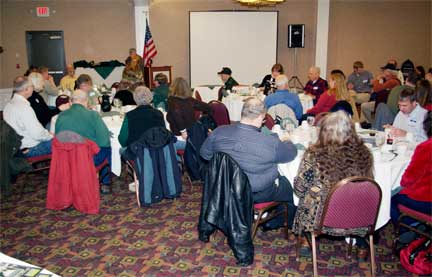 The actual dinner was, as usual for hotel banquet food, nothing to write home about, but the company was quite enjoyable!  Most of our Board Members were there (although a few weren't able to be present), Tristan Huff, our local OSU Extension Forester and great supporter and resource for CCSWA was there, as was the Executive Director of the OSWA State Office, Jim James.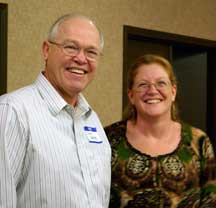 Jim spoke about Stewardship Plans and handed out some great materials.  I'm inspired (again) to update the stewardship plan for the Chandler Family Ranch.
Our other speaker, Mary Sisock, Director of the Ties to the Land Initiative (from OSU), spoke about Succession and Estate Planning (and the difference between them).  I am SOOooooo thankful that I have a terrific family and we all get along so well when it comes to managing the ranch here.  We DO have our succession and estate planning in place, which will ensure the ranch stays in the family and is well managed for years to come.
In other news from the Coos Curry Small Woodlands, we got the membership's approval to set up a Contract Seedling Committee to look into the possibility of the association contracting to grow seedlings for members.  It could be (could be) a great way to help small woodland owners reduce seedling costs and guarantee availability when they are needed.  We'll have to see where that goes.