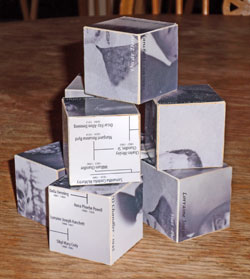 Now that Christmas is over and everyone has received and opened their gifts, I can post the project that I completed and sent to a number of my family members!I got the idea from Family Tree Magazine and it looked like something that would be perfect, especially given that I'm currently working on the family tree.
The Family Tree Puzzle is on 8 2″ blocks.  A total of 12 pictures, each cut into quarters and glued on the sides of the blocks.  When I sent it out, it was jumbled into pieces, my theory being that family members would want to put it together!
Once put together, it would go together two different ways, each showing 6 different pictures of family (one of them being a family tree).  All in all, including the group photos, it showed me and my siblings, my mom and dad (from 1945), all my grandparents, three great-grandparents, and one great-grandfather.  The oldest picture was from 1865 (my great-grandfather at age 21) and most of them were from around the turn of the last century.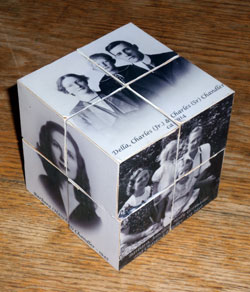 All it all, it was a lot more work than I anticipated, but the end result was better than I'd planned so it worked out. Since it was raining and miserable here, I did the whole thing on the kitchen island, so we suffered with spray glue and varnish for a while – but it was worth it.
Just last night, I got the last of the glue off my hands and arms and got all the boxes I searched through back in the closet where they belong.
Hmm, what to do for NEXT Christmas???