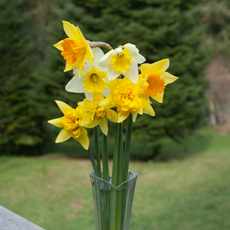 We finally have daffodils!  Granted, they are a month late (which is extremely surprising), but they certainly are pretty, and definitely make me feel like there's a chance spring will come soon.
Out in our yard we have several different kinds.  some have frilly inside petals, some just have the standard 6 petals and a trumpet.  Those come in all yellow (traditional daffodils), and also pale yellow petals with deep yellow trumpets, and deep yello petals with orange trumpets.  I think there are a few more varieties, including some little ones, but they haven't bloomed yet. 
The daffodils at our house usually bloom right around Valentines Day.  The ones in town, where it's a little warmer and they get more sun, I think, tend to bloom a few days earlier.  This year, however, they are only just now blooming.  We've had buds since just before Valentines Day and thought they were going to bloom on time … but no.  I guess it's just been too freakin' COLD.  (I wouldn't bloom either if I was outside this past month!)
Actually, as I write this the temperature is dropping like a stone and we have predictions of snow, at least in elevations a little bit higher than us. I don't know what's happening with the weather – it certainly has been strange this winter.  It was mild(ish) and pretty dry when it should have been cold and wet, and now, when we should be moving into spring we've had several dustings of snow.
Global warming?  Global cooling?  Is an ice age on the way?