Life isn't ALL about regulations and legislation and good manufacturing practices (or preparing for presentations at the HSCG Annual Conference).  Sometimes you have to step back and take time to smell the roses — or in my case, plant the garden.
We've been gradually working on it for years, and this spring – especially in the last few weeks – have made major headway into getting it (or at least part of it) the way we want.  Even with everything else going on, and the HSCG Conference just 12 days away, it's been nice spending a couple of hours a day taking advantage of garden therapy to relax.
Our entire fenced garden (fenced to keep out the deer) is about 75′ by 50′.  Overwhelming.  It was a few years before I realized that we didn't have to tackle the WHOLE thing all at once, so we've been working on it conquering a little bit more each year.  I figure we're about 2/5 of the way there.
Raised Beds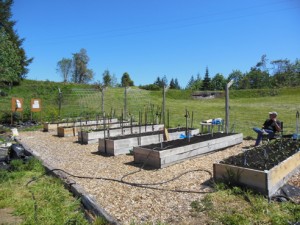 Because of the really bad soil here (heavy clay), we went with raised beds with weed cloth and cedar chips in between to control the weeds.  Living in the Northwest, just about everything native grows like crazy – especially the grass and weeds!
This year we added two new raised beds and put higher sides on the ones we have.  Now we have a total of 6, all filled with composted horse manure and hay (courtesy our horses) and purchased organic topsoil.
We have a spring for our water, so we have to space out the watering – can't water everything all at once.   And watering by hand takes SO long, especially in the middle of summer when it's really dry.  So each bed has it's own drip watering system on a timer (or will have with the last one is completed).  That way we can set them to run sequentially in the middle of the night, and still have enough water for showers and laundry in the morning.
Planting
Not everything is planted yet – we still have some seeds to sow (beets, carrots and radishes and lettuce every few weeks) and some seedlings to plant, but good headway has been made.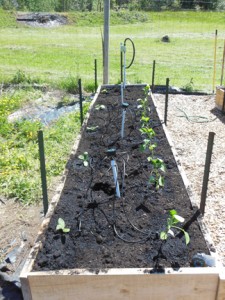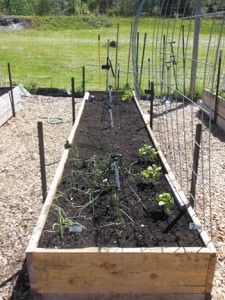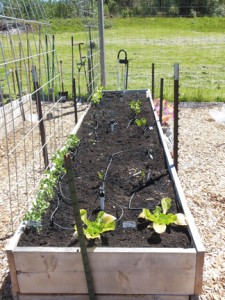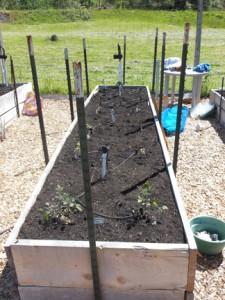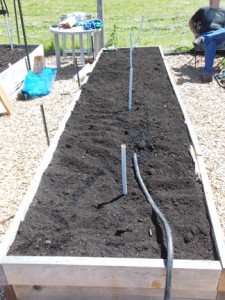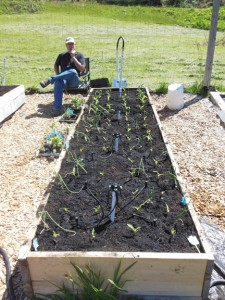 More to go
As mentioned, we've got about 2/5 of the entire fenced garden conquered – which means lots more to go!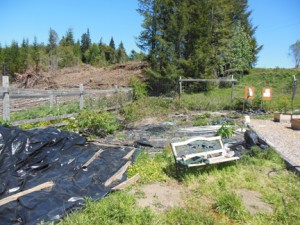 We covered most of it in black plastic to kill the weeds, although some of it has been down for so long it has holes and the weeds are finding their way in anyway.  The blackberries have come up around the edges and are sending trailers in looking for places to root.  That's the next challenge!
We do have 6 blueberry bushes planted around the edges, and they're doing okay.
All in all, I'm pretty happy with the way it's turning out!
Of course, with the cost (time and money) of getting things set up (especially the watering system),  this year our zucchini are probably going to have cost $5 each – but they'll be organic and healthy!