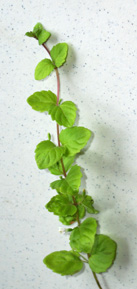 The farrier came this morning to take care of our horses. Heavy (Heavenly Tears) and Mellow both got shoes to help protect their feet as we ride them over the rock roads this summer. Stormy got her feet trimmed. I love it when Frank comes to do the horses – he always dispenses words of cowboy wisdom and is a pleasure to do business with.
This time we got to talking about tea. Jere and I are pretty much off coffee lately, so tea is the order of the day around here and today it was Rooibos tea. Frank said it tasted like "mountain tea" that grows wild around here. Next thing we're traipsing through the yard looking for it. No luck.
So Frank left and as he was driving out the driveway I saw his truck stopped and the next thing he's pulling up a plant from the bank and walking back to the house. Mountain Tea!
I looked it up on-line but couldn't find a picture that helps me identify it. It has a strong, slightly pungent, minty scent. I think it's related to the mint or melissa.