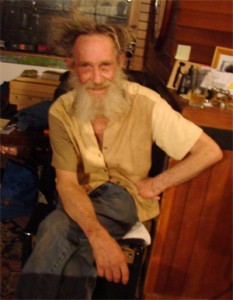 My cousin Adam cast aside his earthly restraints on December 31st, heading off into the vast spiritual unknown to seek out whatever new adventures are in store for him.  His body was found at his cabin by his friend, Jim Hollenbeck, who came up and told me.
After talking with Jim, I called the Sheriff to see what needed to be done.  Since he was already dead, I was looking for the "non-emergency" phone number, but I couldn't find one, so I called 911.  Turns out they consider a dead body an emergency even if it has been dead for a while, so there were great goings-on to find an available Sheriff (we don't have many in the county).  I met him on the road about 2 hours later, and we went up to the cabin to see what was what.
It was my first dead body in situ but it wasn't as bad as I expected. Although he was half-way out the window, it looked like he had leaned out on the ledge for some fresh air, gotten comfortable and then died peacefully.  The Sheriff thought the position "odd", but knowing Adam as I did, it seemed perfectly normal and reasonable to me.  I guess the Sheriff determined so as well, because the body was released to the funeral home without much ado (not at all like you see on CSI).
That left me with notifying family – his children Jerit, Jadene, Karen, Kelly and Eden, as well as sisters and close cousins.  As I didn't have all the phone numbers, it resulted in somewhat of a phone tree with the information relayed from one to the next and then that person calling me for the details.  I talked on the phone with more family on New Years Eve and New Years Day than I have in months, maybe even years!
Adam was my cousin (my mother's sister's son) but 15 years my senior.  He'd been here on the ranch for several years longer than I, living in an septagonal (7 sided) cabin he built from bits and pieces scavenged from here and there.  He was proud to tell me the only thing he bought were nails.  It's actually a pretty amazing bit of construction, built a little like a ship with slanted walls (like a hull), skylights and many windows.
Adam was born August 8, 1940 (which my sister points out made him 8 on 8/8/48, which is how she remembered his birthday).  Growing up in Marin County, California, he was a rebel and (by his own statement) somewhat of a juvenile delinquent.  Actually, I think he was kind of proud of that, since it meant that he never really "bowed to the societal norms".  Our grandmother, Sibyl, taught him classical piano, although he took up guitar and rock 'n roll early on.  In his later life (since I've spent time with him here on the ranch) he tended toward the accordion and piano, and recently been playing some gigs with friends – something that made him extremely happy, I think.  In the middle of his life he spent years in the Sausalito (California) houseboat community, living and working on various boats.  His stories were alternately hilarious and terrifying, but it was a period of his life which he regarded with great fondness.
My cousin Adam was a unique man (which you may have guessed from the picture).   He didn't believe in soap (and me being a soapmaker!), laundry or haircuts except for very special occasions.  When he'd come up for holidays he always professed to "eat like a bird" and that he was "not hungry" … and then proceed to eat several platefuls of food and dessert and then take home some of the leftovers "for later".  Even so, was thin as a rail, hardly ever sick, and exceptionally strong and agile for a man his age.
As for me, I have mixed emotions about his being gone.  For a couple of years now he's been cleaning up and getting rid of things, like he was expecting something to happen.  Lately I've been trepidatious about going to the cabin … would this be the time I found him gone?
I don't feel sad, exactly, but more like there's a space where all that character and personality should be.  There's nothing like it to fill that place and probably never will be.
My cousin Adam was uniquely Adam, an odd and special man, and somewhat surprisingly, I already find that miss him.