This weekend (Friday and Saturday) I attended the first part of my Master Woodlands Manager class.  It's a training program put on by the Oregon State University Extension Service to covering the basics of woodlands management in depth
This week we covered  management planning, forest ecology, inventory, silviculture, and wildlife, both in the classroom and out in the woods.
My favorite new word is "silviculture":
The art and science of controlling the establishment, growth, composition, health, and quality of forests and woodlands to meet the multitude of purposes and values of landowners and society on a sustainable basis.
SO much goes into that definition!
When I first started managing the ranch here, I went out with Jennifer, who was then our local Stewardship Forester from the Oregon Department of Forestry. We looked at a hillside covered with trees and brush and she said, "Well, it looks like you have about 275 Douglas Fir trees to the acre and they are about 8 – 10 years old." I looked at the hillside and couldn't even SEE those baby trees. Well, it wasn't that I couldn't see, it was that I couldn't recognize the amongst everything else on the hillside.
Since then, I'm happy to say, I've gotten so I can see and recognize the Doug Fir, and can even usually tell how old they are. I still can't estimate the stocking very well – but I'm getting there.
After having attended this weekend's class, I now have more things that I can see and recognize in the forest – tree health, the dominant, co-dominant and suppressed trees, based on the crown size and height. I learned how to measure out a plot (a small representative area) and actually do an inventory.
I also got a handle on "forest succession", which is the way that a forest changes over time.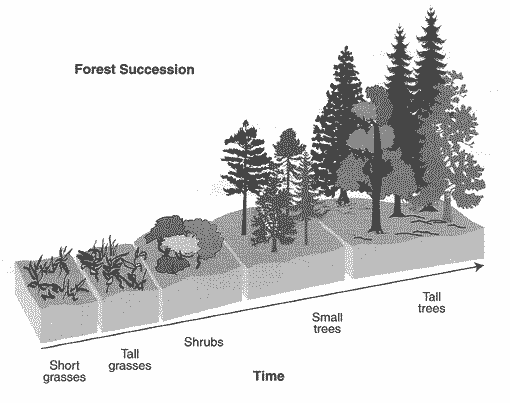 First (not shown in the image) is a major disturbance. The most common major disturbance used to be fire, but since widespread wildfires are now prevented as much as possible, the main ground-clearing disturbance is logging.  Once the ground is cleared, then you get short grasses, replaced by tall grasses, which are replaced by shrubs, then small trees and then tall trees.
As a manager, practicing silviculture "to meet the multitude of purposes and values", my job is to guide the forest to the end result desired on our property.  It's not the same in every corner of the property, so management can be tricky.  Making it trickier still is trying to end up (in 30 to 50 years) with tall DOUG FIR (as opposed to other species).  Douglas  Fir, even when planted, won't grow into small trees and then tall trees if the tall grasses and shrubs steal away the water, light and soil resources.
I have a whole new view on what I need to do to help our baby trees grow healthy and strong.  Like gardening, but on a long, long term basis.
I also have a new view on why maintaining a diversity of plant growth, through all stages of succession, is vital to the wildlife.
My job has just gotten much more complicated – and much more interesting!