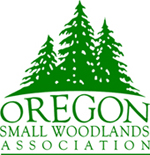 OSWA – Oregon Small Woodland Association, Coos-Curry County Chapter, has a new President.  As of the Annual Meeting (sometime in March) I will be taking the reins for the local chapter.  I've been on the Board (and not really doing much) for a year now.  Last week I decided that if I'm going to do it, I might as well DO it.  It's not as if I don't know how to be the President of a small non-profit group!
I went to an OSWA Board Meeting last night.  It was so different than the Board Meetings for the Handcrafted Soap Makers Guild!
First off, the HSMG meeting is always by phone since we are all over the country (in fact, the last HSMG conference call Board Meeting ended 15 minutes before I walked into the OSWA meeting).
Secondly, the HSMG Board is all women and has been all women (except for the 2 year term served by Bob Kishtok) the whole time I've been with the HSMG.  The OSWA board is all men (except me) and has been mostly men during it's history – although there was a past woman President, just before my time in the organization.
I have to say, though, that it even though it was VERY different from the HSMG (which constitutes my primary experience on a non-profit board) everyone at the meeting was interested, dedicated to improving the lot of small woodland owner, and willing to participate.  Can't as for much more than that from a Board of Directors!
Truth be told, I am pretty excited about working with this group.  Right off the bat the chapter needs bylaw revisions, a system set up for communicating with members and a website … hmmm … just about what the HSMG needed desperately when I started on the Board!
The current forest economy in this area is in VERY rough shape.  Mill prices are down, logging prices are up, nearly everyone who has timber of any kind seems to be digging in to wait it out, which most of them can do.  However, pulling back on the logging also reduces employment for road crews, fallers, equipment repair guys, shifts at the mills and the entire support industry.  My hope is that my work on the Board of the OSWA Chapter will in some way help the other woodland owners like my family ride the economic roller-coaster and fare okay.
Meantime, I am incredibly greatful that I have a business like soapmaking to fall back on.  Regardless of the overall economic situation, people will always use soaps and cosmetics.  In fact, when other luxuries are being reduced, the small, personal luxury of a terrific bar of soap, a soothing bath additive or a pleasingly scented candle will be where people will turn to create an oasis of calm and relaxation in their lives.
Chandler's Soaps along with all the other handcrafted soap and cosmetic makers will be able to fill that need.