Just got back from a road trip – 2160 miles in 6 days. Believe it or not, it was really fun and we had a relaxing time. Spent a lot of time driving back roads and through State and Federal forests and parks. So beautiful!
We left Thursday about 11:30, after packing up the truck in the morning with our stuff and the materials being taken to Ennis, MT – three 55 gallon drums, seventeen 5-gallon containers and 10 boxes of bottles and caps – all destined to go back to their owner since I will no longer be making product for him.  That's the "main" reason for the trip, but we're turning it into an Adventure.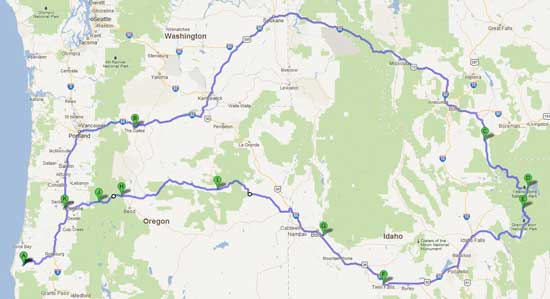 First day we headed over to I-5 and went north into Portland and then west into the Columbia Gorge, stopping for the night in The Dalles, Oregon. After a restful night, we continued west on I-84 into eastern Oregon. The geography changes SO much from western to eastern Oregon.  Dry, hilly, hot … not a place I would like to live.
Mid-day on Friday, we cut north, through eastern Washington.  More desolate, dry, hot land, peppered with huge windmills.  Out on a stretch in the middle of practically nowhere, the tread on our tire blew, wrapping around the bumper and pulling it in to the tire and then wrapping around the fender panel, bending it back and ripping off the mud flap.  Scary, but the tire didn't actually blow and we were able to safely pull to the side of the road – for a 1 1/2 hour wait for AAA to come.
Back on our way, we drove north, through Spokane and across the top of Idaho and into Montana, starting southwest.  Beautiful drive through Coeur D'Alene National Forest and Lolo National Forest. Dinner in Missoula and then back on the road.  Spent the night in a very small, Bates-like motel.  Got the last room, which was a very good thing since the next motel was some 50 miles down the road.
Driving through the heavily forested sections of Idaho and Montana, and then again in Yellowstone, I noticed there were lots of dead and dying trees. Having just finished my Master Woodlands Manager course, I thought it looked like bark beetle damage, so I checked with the Park Rangers. While I was sad to have my theory confirmed, I was sort of pleased that I could recognize what it was.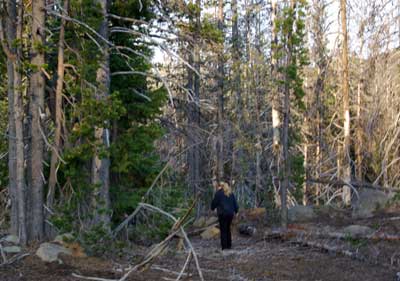 It's a huge problem for the pine forests.  In some places it looks like up to 30% – 40% of the trees are dead, and there isn't anything that can be done about it.  All those dead trees create the potential of huge forest fires because of the available fuel.  The only thing that MIGHT control them is 5 – 7 days of -50 degree weather, which hasn't happened for about 80 years.
Back on the road early, we continued on I-90, through Butte, and then cut down to Ennis, where we dropped off the supplies.  Quite a relief when the truck was 2200 lbs. lighter!  That night we made it to West Yellowstone, where we enjoyed dinner, a thunderstorm, some touristy shopping, a trip to the Yellowstone museum and a relaxing hot-tub at the motel.
Bright and early in the morning, we went into Yellowstone National Park.  AMAZING!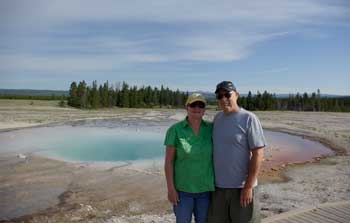 Walked around several of the paths through the hot springs and geysers, including Painted Pot and others.  Saw Old Faithful erupt (right on schedule) and picked up a few gifts.
After winding through Yellowstone, we continued south into the Grand Teton National Park. Also incredibly beautiful – the mountains are so in-your-face and really, really BIG. Once out of the park and into Jackson Hole, we headed west, through Idaho Files and Pocatello, and stayed in Burley, just before Twin Falls.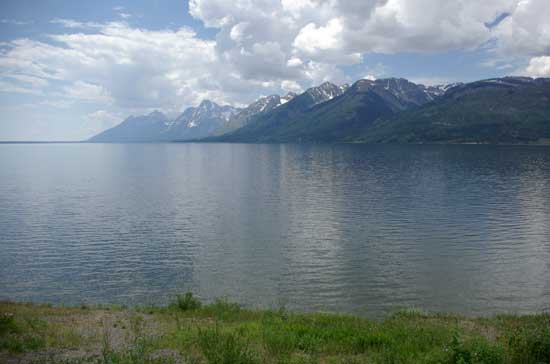 Next day we continued West on I-84, across Idaho and back toward Oregon. As we passed Hagerman, the name rang a bell. I looked at my Ancestry.com app (where I can view my Ancentry.com family tree research) and realized that my Grandfather's oldest sister, Margaret Reletta ("Aunt Etta") was born "on the Oregon Trail, Hagerman Valley, Idaho". What a desolate place to be in a covered wagon, pregnant and then giving birth!
Not too far past Hagerman in Three Island State Park, where the Oregon Trail crossed the Snake River.  From there, we took the Old Oregon Trail Historical Byway – over mostly gravel roads – for about 30 miles and actually saw the Oregon Trail and the land it passed over.  I can't imagine traveling that in a covered wagon drawn by oxen teams — but my Great-Great Grandfather Willis, with his 12 children, including the oldest son, my Great Grandfather William, and his wife and new baby, and a number of others did it.  Very impressive.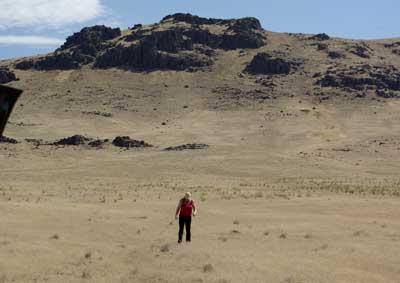 We got back on the freeway at Mountain Home and continued through Boise, into Oregon, through Malheur and Umatilla National Forests and into Sisters, Oregon for the night.
We left Sisters very early (for some reason we were up at the crack of dawn every day) and took a "short cut" through the Willamette National Forest on our way west.  About 50 miles of windy, curvy, 2 lane road, up over passes and through beautiful forests.  In the middle is a huge lava flow where we stopped to view the surrounding mountains.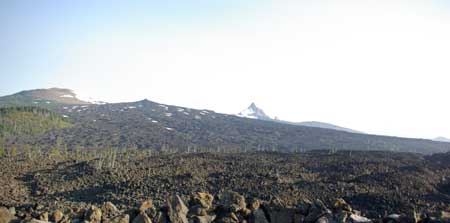 After leaving the National Forest it was a pretty, but uneventful drive down into the Willamette valley and over to Eugene.  Four and a half hours later, including a few stops for groceries, tile for the bathroom and dog food, we were home at last.
Glad to be home and, while I enjoy riding in the car and seeing the sights, am happy to have the quiet without the underlying rumble of the diesel engine of the truck.  Now to catch up – email, phone messages and mail are calling my name!