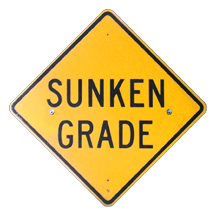 Before I moved to Oregon, I had never seen a warning sign saying "sunken grade". In fact, the first few times I saw one I wasn't exactly sure what it meant.  (Trust me, those grades weren't very sunken, otherwise I would have figured it out much sooner.)  Even Yahoo Answers doesn't have the exact right definition of a sunken grade.
A sunken grade is a place where the road literally sunk down, either into some sort of sink hole or because the underlying ground has shifted.  Around here, we call them "blue clay slips".  It's where the roadbed has a layer of blue clay under it and when the clay gets waterlogged it turns liquid, and slips … often taking all or part of the road with it.  That's what we had  ….
Last week the dogs were barking and we looked out to see someone from the Coos County Road Department putting out "Flagger ahead" signs at the end of our driveway.  A quick check to see what was going on, and we found out there had been a "slip" just up the hill from us.  So we drove up to see, and here's what we found: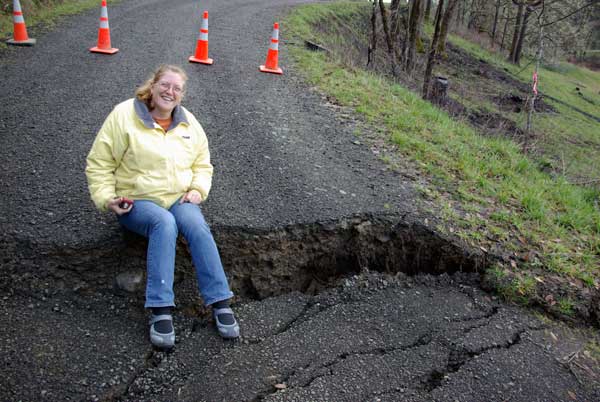 At the south end, the roadbed had dropped about 2 feet.  Clunk.  Dropped, just like that. At the north end, it dropped significantly more: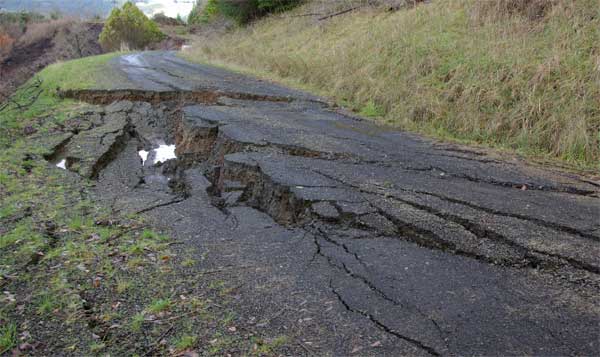 At the lowest spot (where the water is puddled) it was almost 4 feet from the original roadbed.
Over the next few days the Road Dept brought load after load after load of gravel to fill it in.  Given the current County budget, they didn't do anything to fix the underlying blue clay, but the road is passable now.
At least until the next big rain comes.