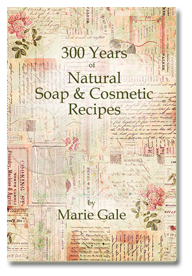 300 Years of Natural Soap & Cosmetic Recipes
This book is over 300 pages, and contains over 500 recipes for cold process soap, different types of cosmetics and scent blends.  The recipes come from my extensive collection of antique and vintage soap and cosmetic books, dating back to the early 1700's as well as research on more recent recipes.
The book is available from various industry suppliers, from the Handcrafted Soap and Cosmetic Guild, which offers a 25% discount on all books (including this one) and also from Amazon.com (qualifes for Prime shipping and is sometimes discounted).
I've always loved the historical approach to soap and cosmetics.  After all, back in "olden times" all they had to work with were natural ingredients and essential oils.  In fact, many of these recipes served as the foundation for the products I made and sold through my own soap and cosmetic business.
Of course, "natural" ingredients can include materials that are actually harmful, so I've selected only the recipes that include safe ingredients.  We don't want to make cosmetics with mercury, lead or arsnic (or opium, laudenum, or cocaine!) all of which were common ingredients at times in the past. For general interest, there is a short section on recipes that you SHOULDN'T make – they contain some pretty interesting ingredients, including snails and slugs and a variety of poisonous, addictive and/or illegal substances.
Also included in the book you'll find:
an historical overview of cosmetics and soap
general explanations of how to make each of the different types of products
measurement conversion charts
directions for increasing or decreasing batch size
a glossary of ingredients (including alternative replacements)
list of suppliers
The book is designed so you can either use the recipes as-is, or – because there are many recipes in each category – use the recipes as a starting point for developing your own unique formulations.

Support this site & pay it forward
Helping the handcrafted soap and cosmetic industry has been my passion for nearly 20 years now. With this blog and answering questions sent to me, I try to provide accurate information freely and to assist those making soap and cosmetics to follow the rules and regulations. While others may charge for answering questions or create paywalls to access the data, I will always try to provide the important and necessary information freely to all.
If you feel this information has been valuable to you, helped you, and would help others -- and if you can afford it -- a small payment to help offset the time, effort and cost of providing this information would be greatly appreciated!