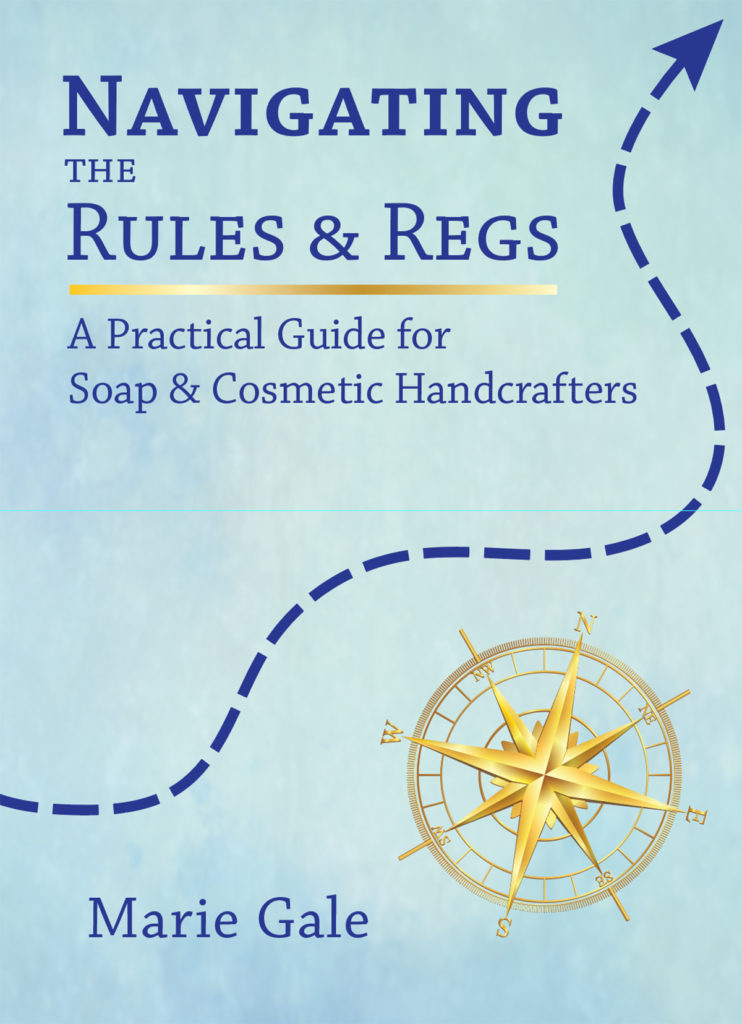 180+ topics
Details on many of the laws, regulations, standards, and guidelines that might affect you – with checklists and guides to help you figure out which ones do apply.
500+ pages
Have you ever felt blindsided by some rule, regulation or standard that you didn't know about? As I built my own soap and cosmetic business, I certainly did. And every time, I had a little feeling of, "Uh-oh – what else don't I know?" along with a lot more work to do.
The journey from the hobby of making handcrafted soap and cosmetics to the realities of running a small business that is making, marketing, and selling products can be daunting. There are so many laws, rules, regulations, guides and standards that must or should be followed. In this book I share my extensive research and experience, and map out the most likely obstacles and barriers you may encounter.
Some of the topics covered are:
All aspects of labeling
Over 25 common cosmetic ingredients that have safety issues, regulations, or other details you should know.
Information on 7 International Standards (ISO) that could apply to your products
Where to get safety information for cosmetic ingredients
Resources for fragrance safety
Heads-up on several upcoming changes that could affect your product labeling.
Overviews of intellectual property (patents, trademarks, copyrights, and trade secrets).
What agencies oversee different aspects of your business.
Requirements for getting and using testimonials, endorsements and certifications
And much more !
Learning what regulations are out there is a little like sailing in new waters. You can get lucky, happily sailing along without any problems. Or, like most sailors, sooner or later you crash into nearby rocks and cliffs or run aground on the shoals, reefs and sand bars hidden just below the surface.
My goal is to provide you with the information you need to safely avoid the hazards and steer clear of potential catastrophe for your business.
Ordering Information
There are several options for purchasing the book. You can make your choice based on how fast you want it, whether you want a signed copy, and the cost of the book and shipping.
Amazon
You can order a regular copy of the book from Amazon.com (or the Amazon in your country). The book qualifies for Prime shipping and you can usually get it pretty quickly. Price is $34.95.
Special Hardbound Edition — Signed and Numbered
LIMITED TIME OFFER: Special, signed and numbered hardbound edition. Available directly from me. Price is $49.95, including shipping by USPS media mail (US delivery only). Delivery time is typically around 7-10 days.
Wholesale
Wholesale copies of this book can be purchased from Cinnabar Press.