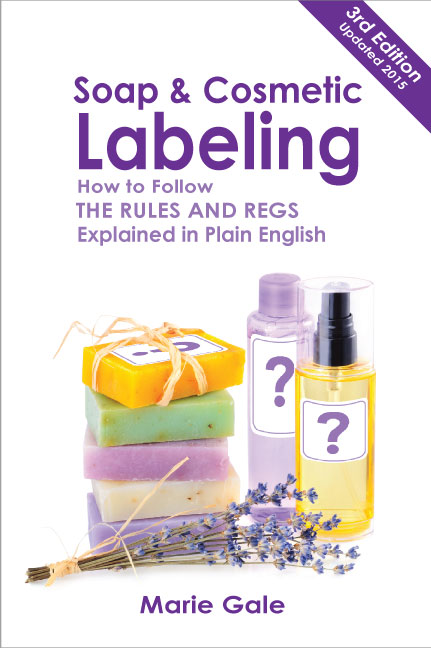 Labeling isn't complicated … but it is detailed!
This book walks you through all those details in an
easy-to-understand format so you can label your products correctly.
170 pages
The 3rd edition, published in 2015, is still the go-to book for soap and cosmetic labeling. The regulations have remained stable since that time; with only a few clarifications (not changes) from the FDA.
This edition, as will all previous, covers the details of labeling your soap or cosmetic, including:
Determing the intended use of your product;
The difference between "soap" and a "cosmetic" and how to figure out which regulations apply;
Identifying and measuring the principal display panel of your product;
Using the size of the principal display panel to determine the required text size;
How to create your ingredient declaration;
Explanations of metric and US customary measurements and how to correctly state the net contents;
Options for the business name and address;
and much more!
This edition includes more background on what laws and regulations are in existence and which agencies enforce the rules for which products. This area has been somewhat confusing to many handcrafters, especially when differentiating between soap that is exempt from cosmetic regulations and soap that is considered a cosmetic. For general interest, there's a bit of history of the whys and wherefores of the laws and how they came to be.
You will also find more pictures and diagrams to give examples of labeling options. Much of the text has been edited to make it clearer, more readable, more "plain English" and – hopefully – that much more understandable.
Lastly, there is a chapter covering OTHER (non-labeling) laws and regulations that could affect your business, so you aren't caugh off guard.
Whether you're an old hand or a newcomer to the business of soap and cosmetics, you'll find the information presented here clear and easy to understand, and Soap & Cosmetic Labeling an excellent guide through the maze of labeling regulations.
Ordering Information
There are several options for purchasing the book. You can make your choice based on how fast you want it, if you want a signed copy, and cost of the book and shipping. Price is usually $24.95, although there are sometimes discounts.
Amazon – Paperback or Digital eBook
You can order a regular copy of the book from Amazon.com (or the Amazon in your country). The book qualifies for Prime shipping and you can usually get it pretty quickly. The eBook (Kindle) is $9.99.
Signed Edition
You can optionally purchase a signed edition, directly from me. Price is the same as offered on Amazon, and includes shipping by USPS media mail. Delivery time is typically around 7-10 days.
Wholesale
Wholesale copies of this book can be purchased from Cinnabar Press.