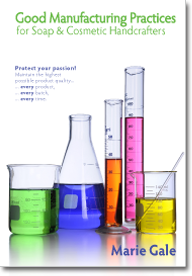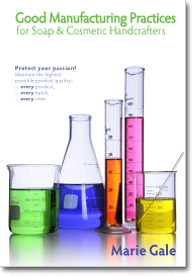 Good Manufacturing Practices for Soap and Cosmetic Handcrafters.  
Nearly a year in the making, this book details what good manufacturing practices are and how soap and cosmetic handcrafters can go about getting real GMP standards set up in a home-based or very small setting.
There's been a lot of discussion about GMP over the years, but most – well, ALL – the GMP guidelines that exist assume large businesses and manufacturing facilities with personnel, big equipment and facilities, quality assurance labs and such.  This book breaks it down for the handcrafter and gives practical advice and solutions on how to adapt GMP guidelines in a realistic way.
The book will be released at the Handcrafted Soapmakers Guild 2012 Conference in Portland, Oregon, May 9 – 11.  I will also be speaking there on "GMP for Handcrafters".
Suggestions for Cover Art?
The one thing I still haven't figured out is the cover art for the book.  I only have a few days to come up with something, so I would really appreciate any input.
What image comes to mind when you think about good manufacturing practices for handcrafters?
If you have a minute or two and can post a comment with your ideas, it would help out a lot!