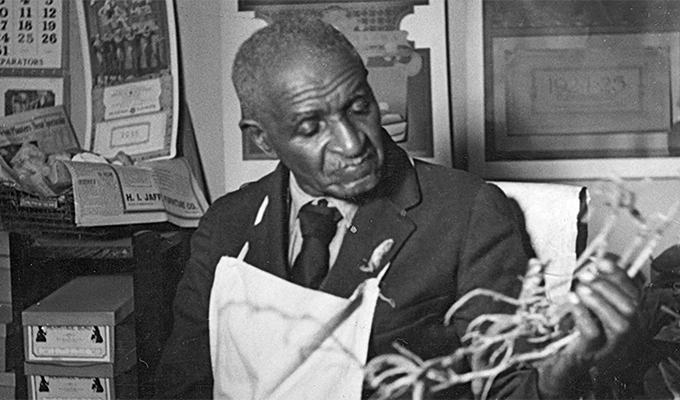 The Peanut Man
While we tend to look at peanuts from the view of potential allergies, the truth is that peanuts were a major boon to the South through the research and hard work of George Washington Carver (1864-1943) 1"George Washington Carver," Wikipedia. https://en.wikipedia.org/wiki/George_Washington_Carver. He was a professor at the Tuskegee Institute and while there he developed hundreds of uses for the lowly peanut, including food products, as well as animal feeds, household products, beverages, medicines, dye and paints, ink, polish, and 20 different cosmetic products:2"Carver Peanut Products," Tuskegee University. https://www.tuskegee.edu/support-tu/george-washington-carver/carver-peanut-products:
Hand Lotion
Face Lotion
Face Cream
Vanishing Cream
Face Bleach and Tan Remover
Baby Massage Cream
Shampoo
Oil for Hair and Scalp
Shaving Cream
Pomade for Scalp
Face Ointment
Glycerine
Face Powder
All Purpose Cream
Fat Producing Cream
Tetter and Dandruff Cure
Toilet Soap
Antiseptic Soap
Pomade for Skin
Peanut Oil Shampoo
Peanut Lotion Patent
Very few of Carver's products were patented.
One reason I never patent my products is that if I did it would take so much time, I would get nothing else done. But mainly I don't want my discoveries to benefit specific favored persons.

George Washington Carver3 "George Washington Carver Quotes" DiscoverQuotes.com.

https://discoverquotes.com/george-washington-carver/quote1226599

/
Only one of his cosmetic products was patented – a pomade or vanishing cream made from peanuts.4US Patent 1,522,172. January 6, 1925. "Cosmetic and Process of Producing the Same." https://patentimages.storage.googleapis.com/8b/88/87/718c2cfc503e74/US1522176.pdf The directions for the pomade were:
Grind raw, blanched or boiled peanuts to the fineness of perfectly smooth peanut butter.
For each ounce of peanuts, add 100cc water and stir well.
Strain through cheese cloth.
Heat on the stove or in double-boiler (water bath) until oil is plainly visible on the surface.
Use as-is or add 2cc of peanutl oil. Stir until it is the consistency of thick cream.
Add approximately 6 g of "toilet powder" (kaolin, kaolinite, or china clay). Mix thoroughly to the consistence of thick heavy cream.
Add salicylic acid (about the size of a small pea).
Add 10 drops benzoin and 3-4 drops of any desired perfume oil
Mix until completely smooth.
Options include grinding the peanuts until granular (not smooth) to produce a coarse cream, omitting the added peanut oil, the toilet powders, or both. It is also mentioned that the selection of powder could modify the color from dark brunette shades through pinks and lavenders to pure white.
---