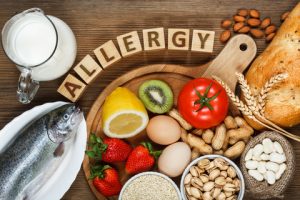 Allergens in cosmetics have been an issue of growing concern. Food product regulations require the disclosure of certain allergens, even if only that the facility makes other products with the allergens in them (e.g., "this product was made in a facility that puts peanuts in other products"). Cosmetics don't have those requirements. Concern for consumers has prompted many handcrafters to include a notice when tree nut oils or other potential allergens are included in their products, but it is not required.
The FDA just announced in the Federal Register183 FR 55896 that they are considering a consumer survey to gather more information about allergens in cosmetics in a pilot study entitled "Web-based Pilot Survey to Assess Allergy to Cosmetics in the United States." The objective of the survey is "to collect information needed for a more current understanding of the prevalence of adverse reactions to cosmetics."
The survey is not live – there are a number of steps that have to be undertaken in order to get approval. They are required to announce and get public comments on any "collection of information." They must also get approval from the Office of Management and Budget. The Docket number assigned is FDA-2018-N-3442.  Both the collection of information and the survey itself are open to public comment for 60 days (closing January 7, 2019).
Outdated Information
The last survey of this kind was undertaken in 1975 – over 40 years ago. As the FDA notes in the background information for the survey, both the cosmetic industry and consumer view of the industry have changed in the last 40 years.  People – from infants to geriatics – are using more cosmetic products AND the incidence of allergies is on the rise.  While the FDA has a publicly available adverse reaction reporting system, they feel that not all adverse reactions are being reported.  (I would tend to agree there!)  So they are looking for more current information.
Interesting Survey Questions
The survey contains typical questions covering where and how often cosmetics are purchased. There are also expected questions asking if there has been an allergic reaction, and if so what the reaction was, how bad it was and who they reported it to.
It was the other questions being asked which I found particularly interesting, especially:
1. Unregulated terminology
There is a whole section asking about "factors you consider when buying cosmetics" which address terms which are currently unregulated and undefined. They ask, "How often do you buy products labeled as …"
Hypoallergenic
For Sensitive Skin
Natural
Organic
Paraben-free
Gluten-free
Those certainly are the buzz words of the day!  I wonder how many people really do buy based on those words on the label.  Hmmm.
2. Expiration dates
There are several questions about whether consumers check the expiration date before purchasing, and if they continue to use a product after its expiration date (and if so, for how long).
Expiration dates currently aren't required on cosmetic products, although they are part of good manufacturing practices.
3. Specific Allergens
One question asks which allergens the person is allergic to.  The list provided is:
2-Bromo-2-nitropropane-1,3-diol (Bronopol)
Acrylates
Amerchol L101
Balsam of Peru
Benzophenone 3
Cetyl/steryl alcohol
Cobalt
Cocamidopropyl betaine
Diazolidinyl urea
Dimethylol dimethyl hydantoin (DMDH)
Fragrance mix ingredients
Gold
Imidazolidinyl urea
Iodopropynyl butylcarbamate
Methyldibromo-glutaronitrile
Methylisothiazolinone (MIT)
Nickel
parabens mix
Phenoxyethanol
p-Phenylenediamine (PPD)
Propylene glycol
Quaternium-15
Tea Tree Oil
Tosylamide/formaldehyde resin
Wool alcohol
Other _____________
These seem to be the most common reported allergens used in cosmetics.
Some of them are very commonly used in handcrafted cosmetic products.
4. Fragrance components
Finally, there is a question about which fragrance mix ingredient(s) the person is allergic to.  The items listed:
Amylcinnamyl alcohol
Anisyl alcohol
Banzyl salicylate
Benzyl alcohol
Benzyl benzoate
Benzyl cinnamate
Cinnamal
Cinnamaldehyde (cinnamal, cinnamic aldehyde)
Cinnamyl alcohol (cinnamic alcohol)
Citral
Citronellol
Coumarin
d‐Limonene
Eugenol
Farnesol
Geraniol
Hexyl cinnamaladehyde
Hydroxycitronellal
Hydroxyisohexyl 3‐cyclohexene carboxaldehyde (HICC), Lyral
Isoeugenol
Lilial
Linalool
Methyl 2‐octynoate
Oak moss extract, or Evernia prunastri extract
Tree moss extract, or Evernia furfuracea extract
α‐Methylionone
These are the same 26 allergens that must be identified on the label2They must be listed on the label if they are present at more than .01% in wash-off products or .001% in leave-on products. of cosmetic products sold in the European Union.  This page shows all the items in the list and what products or essential oils they may be found in.
What does the future hold?
You won't see any immediate changes in product or labeling requirements. However, it does look like the FDA is taking the first steps necessary toward addressing allergens in cosmetic products.
The FDA has a lot of hoops to jump through before any existing regulations can be changed or new regulations implemented.  If they do decide, after this survey, that regulatory updates are needed it could be several years before any changes are fully in effect, and public comment will be solicited at several points along the way. It won't be a big surprise, if it happens.
What should you do now?
Regardless of any actions taken by the FDA, allergens in your handcrafted products could be an issue to your customers.  Become educated. Know what you are putting in your products and how it may affect your customers, especially those in at-risk groups.  Avoid known allergens where possible, and – where you can – make any allergens known.
The more you can ensure that you customers have a good experience with your products, the more customers you are likely to attract and the more loyal they will be.