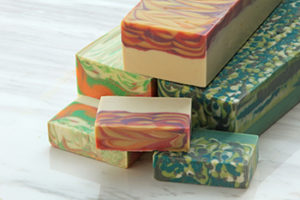 There has been a lot of discussion over the years about whether an ingredient declaration is required on soap products. Let's take another look.
Applicable Laws
There are several acts and laws that apply to the labeling of soap and cosmetics, including the requirements of an ingredient declaration on the product label.
Fair Packaging and Labeling Act
The Fair Packaging and Labeling Act (FPLA), passed in 1968, governs the labeling of all consumer commodities. Consumer commodities are products that are sold to end users who use up the product. Soap AND cosmetics AND many other things are used by consumers and used up … they are consumer commodities. See also What is a CONSUMER COMMODITY?
The FPLA is the LAW (not a regulation). You can find it online (search for "15 USC 1451" or "15 USC Chapter 39"). It requires that every product label include:
the identity of the product (what it is),
the name and place of business of the manufacturer, packer or distributor,
the net quantity of contents.
The FPLA gives the "regulating body"  the authority to establish all the standards for the label and the option to require ingredients to be listed.
Food Drugs & Cosmetics
The FPLA gives authority to the FDA to establish the label requirements for foods, drugs and cosmetics.
The FDA requires the ingredient declaration on all the products they regulate.
Other Consumer Commodities
The FPLA gives authority to the Federal Trade Commission (FTC) to make regulations for other consumer commodities (things like dish soap, laundry soap, toilet paper, etc).
The FTC does NOT require ingredients listings for the consumer commodities they regulate.
Truth in Advertising
Finally, no matter what the product, you cannot be false or misleading about statements made about the product.
Soap: What Laws & Regs Apply?
The first thing to determine for the soap is whether it is a cosmetic or not. Soap is a cosmetic by default because it is applied to the human body to improve appearance or cleanse. However, the Food Drug and Cosmetic Act definition of a cosmetic exempts soap. Confusing? A bit.
Luckily, the FDA regulations clarify when a soap is exempt. To be exempt, it must:
mainly consist of the alkali salt of fatty acids (be a lye/oil soap)
get it's cleansing properties from the alkali salt of fatty acids (not added detergents)
be marketed only as "soap"
have no claims that it will have any cosmetic benefits (moisturizing, exfoliating, etc)
If the soap is a cosmetic, then all cosmetic laws and regulations apply. The ingredient declaration is required and it must meet the requirements in the FDA regulations. Color additives are limited to those approved for use in cosmetics.
But if it's NOT a cosmetic?
Non-Cosmetic Soap
Also called soap that is exempt from the definition of a cosmetic, exempt soap, or (slightly incorrectly) true soap.
The ingredient declaration is not required. The cosmetic regulations concerning them do not apply. There are no restrictions on the ingredient naming or other details.
Ingredients? Say Whatever You Want
Well, not quite. The guiding principle is: don't deceive or mislead the consumer.
Telling your customer what ingredients you use can be a great marketing tool. Savvy shoppers what to know what they are getting so they can compare the value of products. And if you use high-quality ingredients, then it's great to let your customers know. So go ahead if you want to – there aren't any regulations (or anything else) saying you can't market your product by telling what you use to make it.
Don't deceive or mislead
Deceiving or misleading the consumer means that you lie, omit or otherwise camoflage "material facts".  A material fact is one that could affect whether or not the consumer will purchase the product. Sticking within the parameters of not being deceiving or misleading, you have several options when it comes to soap and the ingredient declaration.
1) Follow the Cosmetic Regulations Anyway
You could list all of the ingredients just like you would for a cosmetic, following all of the FDA regulations on how to list the ingredients. While not totally simple, it does ensure that the consumer won't be deceived or misled. Savvy buyers know what the ingredient declaration means and how items are supposed to be listed. If you list the ingredients that way you are well in the clear of any accusations a consumer might throw at you.
2) List the Ingredients Your Way
You could make up your own way to list the ingredients.  You might use "saponified oils of ___" (which isn't acceptable in a cosmetic ingredient list). Or you might list "essential oil blend" (which also isn't acceptable in a cosmetic ingredient list). You could add in descriptive words like "naturally sourced ___" or "plant based ___" instead of sticking to the INCI names.  You might have one label for several soaps and check off the ingredients that are in THAT soap. So long as you aren't misleading or deceiving the consumer, the field is open here.
3) Highlight Only Some Ingredients
You could highlight the fact that your product contains certain ingredients, but not include the whole list. If you go this way, you need to be very, VERY clear that you are not listing all of the ingredients.  Don't make it an "ingredient declaration" that the consumer expects to include every ingredient. Instead, present it in some different way, making it clear you are highlighting some, but not all, of the ingredients.
Where to draw the line?
So where do you draw the line between being "creative" and being "deceptive or misleading"?
Think about how YOU would feel if you were considering purchasing a soap with that description of the ingredients? Would you feel that the soapmaker was being "tricksy" (as my daughter would say)? Would you wonder if you were getting cheated (maybe it's all soy oil and just a teensy bit of shea?)  Would you have reservations about buying it because you weren't completely sure if it was healthy/natural/safe/honest/true?  If YOU would have reservations, then don't do it to your customers.

Support this site & pay it forward
Helping the handcrafted soap and cosmetic industry has been my passion for nearly 20 years now. With this blog and answering questions sent to me, I try to provide accurate information freely and to assist those making soap and cosmetics to follow the rules and regulations. While others may charge for answering questions or create paywalls to access the data, I will always try to provide the important and necessary information freely to all.
If you feel this information has been valuable to you, helped you, and would help others -- and if you can afford it -- a small payment to help offset the time, effort and cost of providing this information would be greatly appreciated!