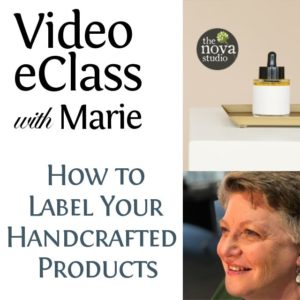 For all the people who have asked me to put together an actual eClass, I am so excited announce that my eClass is now – finally – available to one and all at The Nova Studio!!!  It's been months in the making and I'm extremely proud of the finished product.
Rather than do one long lecture-type video, we decided to break things up.  The class actually consists of 11 videos, for a total of about 2 1/2 hours.
The good thing is that you don't have to commit to watching the whole thing all at once – you can watch a short video on one subject and then come back and watch the next video when you have time.  It also makes it possible to go back and watch a portion several times if that's the best way for you to absorb the data.
The individual video titles are:
Brief Introduction (1:28) (you can preview that on The Nova Studio site)
What is a Cosmetic? (20:39)
Let's Talk About Soap (18:16)
Making Claims (21:21)
What's Required on ALL Labels? (5:53)
Product Name & Identity (8:39)
How to Measure & List Net Contents (15:39)
How to List Your Business Name & Address (12:52)
What Ingredient Names to Use (28:39)
How to Properly List Your Ingredients (12:14)
What Additional Information Goes on The Label? (9:10)
Along with the videos, there are two downloadable .pdf files:
Labeling "Summary Sheets" – This 11-page packet covers 7 key aspects of product labeling:

Definitions
What's Required on All Labels
Product Name & Identity
Net Contents
How to List Your Business Name & Address
Ingredient Declaration
Directions & Warnings

Labeling "Quick Guides" – This 16-page packet has details for different types of handcrafted products. The 6 product specific Quick Guides are:

Hot/Cold Process Bar Soap
Melt & Pour Soap
Liquid Soap
Liquid Cosmetic Products
Solid/Semi-Solid Cosmetic Products
Salt/Sugar Scrubs.
The class is available now (yay!). Cost is only  $59.00. Sign up at The Nova Studio.
Early Bird Bonus!
Anyone who signs up for the course before May 15th can secure a spot in a 90 minute live/online Q & A!  I'll be there live and "in person" to answer questions from enrolled students. The Q & A will be held Tuesday, May 18 at 10 am Pacific (12 noon Central; 1 pm Eastern).