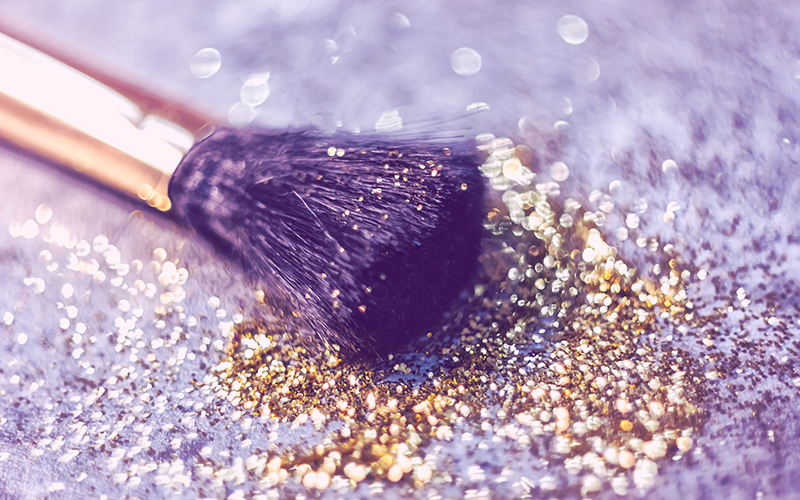 In another major step to protect the environment, on September 25, 2023, the EU adopted measures to restrict intentionally added microplastics in cosmetics and many other products. That includes synthetic, plastic-based glitter.
Most part of the regulation that affect cosmetics will be phased in over the next 4 – 12 years, allowing cosmetic manufacturers to come up with suitable alternate formulations. However, the ban on loose glitter went into effect almost immediately, on October 15, 2023.
Update November 4, 2023 – The EU has clarified that the ban on loose glitter does not apply to glitter used in cosmetics (as that is covered in the transitional time-line to allow manufacturers to reformulate). However, loose glitter that does not have a transitional period (such as arts and crafts or toys) was to have been off the market by October 17th.
Why glitter?
Most glitter is made of plastic, polyethylene terephalate (PET). The color is adhered to the plastic sheets and then it's chopped up into tiny pieces.
From an environmental point of view, glitter is a microplastic.
Microplastic: a synthetic polymer particle that is less than 5 millimeters (about 1/3 inch) and is organic, insoluble and resists degradation.
While some microplastic comes from big pieces of plastic that end up in landfills or the ocean and break up into little bits, glitter is already a microplastic. Not only that, it is a microplastic that frequently (usually) winds up in a domestic sewer or water system. From there, it can contribute to all sorts of environmental issues.
Cosmetic products with intentionally added microplastics will be restricted under the new EU regulations. However, cosmetic companies will have a transitional period of 4 – 12 years to figure out and revise their formulations to eliminate the use of microplastics.
NOTE: Glitter that is made from other substances (biodegradable, natural, soluable or inorganic glitter) is not a microplastic and is not being banned,
Non-cosmetic products using microplastics
There are also plenty of non-cosmetic products that use microplastics which will fall under the new EU regulation. Of particular concern are the under-layment used in in artificial sport surfaces – this is the largest source of releases of intentionally added microplastics in the environment.
What should you do now?
These new regulations apply to products sold in the European Union. The US already has a law in place prohibiting plastic microbeads intentionally added into cosmetics for exfoliation. In the US, there is no regulation covering other microplastics or glitter.
If you are in the United States
You don't HAVE to do anything.
However, if you do use glitter or microplastics (including synthetic mica – synthetic fluorphlogopite) in any of your products, you might want to read up and decide if you want to continue to use them.
If you are in the Europe Union
Obviously, if you have products that are sold in the the EU, you'll need to follow-up and comply with the regulations. If you sell loose glitter as a cosmetic product, you'll need to stop now, and if you have products that contain glitter or other microplastic, you'll need to reformulate.
More information
The National Oceanic and Atmospheric Administration (NOAA) has an excellent article, What are microplastics, which explains how they affect the global water system.
The United Nations Environment Program also has an excellent article, Plastic planet: How tiny plastic particles are polluting our soil, which covers how microplastics get into the soil and the resultant effects.
---