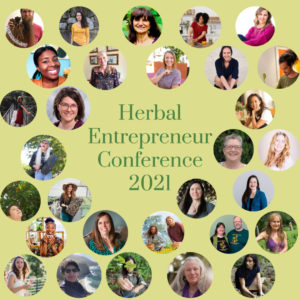 I am so honored to be included in this year's Herbal Entrepreneur Conference being held virtually March 21 – March 27th! This is the 3rd annual.
My session, "What You Need To Know About Labelling Herbal Products" will be on March 23rd at 11AM (PST).
The conference goes for a week with speakers every day. There are several tracks addressed to herb growers, makers, clinical herbalists, and others.
The host, Yolanda Joy, has pulled together an incredible lineup of speakers with some of the very successful herbal business owners to share their best tips, strategies, and ideas to help you to start or expand an herbal business.
And it's FREE to attend!
You grow herbs, have an herbal business, make products containing herbs or just want to know more, it should be a great conference!
Here's just a small sample of what you'll will be covered during the summit sessions:
How to set up your herbal business, including business registration and licensing
Different business structures to profit from your herbal passion
The step-by-step guide to formulating your own products
How to set up a website to sell herbal products
The best ways to navigate the modern regulatory environment for herbal businesses
What you need to know about herbal product labels
How to work with clients to get the best health outcomes
The roadmap to marketing your herbal business to reach more people
Plus much, much more!