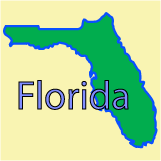 [Updated July 11, 2019 to include a section on Inspections and a link to the actual regulations for the requirements that must be met.]
Of all the subjects I get asked about, making cosmetic products in Florida is close to the top of the list because they have the most stringent regulations for cosmetic manufacturers. That being the case, I thought a recap of the Florida regulations might be in order.
Florida Law
The current Florida statutes covering cosmetics are in Title XXXIII, Regulation of Trade, Commerce, Investments and Solicitations, and particularly, Chapter 499, Drug, Cosmetic and Household Products.
The law defines several important terms:
(13) "Cosmetic" means an article, with the exception of soap, that is:

(a) Intended to be rubbed, poured, sprinkled, or sprayed on; introduced into; or otherwise applied to the human body or any part thereof for cleansing, beautifying, promoting attractiveness, or altering the appearance; or

(b) Intended for use as a component of any such article.

FLA. STAT. § 499.003(13) (2018)
The definition of a cosmetic in Florida statutes is, for all intents and purposes, identical to the definition in US law. If it is applied to the human body to make it look better, then it is a cosmetic. A cosmetic would include scrubs, creams, lotions, serums, bath fizzies and bombs, oils, bubble bath, shampoo, make-up, bath salts, bath milk, bath tea, masks, etc., provided the product is not intended to alter the function or structure of the body or to treat, mitigate, or prevent disease (in which case it would be a drug).
(30) "Manufacture" means the preparation, deriving, compounding, propagation, processing, producing, or fabrication of any drug, device, or cosmetic.

(31) "Manufacturer" means:

(a) A person who prepares, derives, manufactures, or produces a drug, device, or cosmetic;

FLA. STAT. § 499.003(30-31) (2018) (definitions pertaining to drugs are omitted)
The statutes go on to state that if you are going to manufacture cosmetics, you must get a permit. However, if you are going to puchase cosmetics that are made out of state, never open them, and only label them, no permit is needed.
Permits

(2) The following permits are established:

(r) Cosmetic manufacturer permit. – A cosmetic manufacturer permit is required for any person that manufactures or repackages cosmetics in this state. A person that only labels or changes the labeling of a cosmetic but does not open the container sealed by the manufacturer of the product is exempt from obtraining a permit under this paragraph.

FLA. STAT. § 499.01(2) (2018)
There are some age and location restrictions on who can be issued a permit.
BTW, a "not a natural person" is a corporation or other business entity.
Permit application requirements.
(1)(a) A permit issued pursuant to this part may be issued only to a natural person who is at least 18 years of age or to an applicant that is not a natural person if each person who, directly or indirectly, manages, controls, or oversees the operation of that applicant is at least 18 years of age.

(b) An establishment that is a place of residence may not receive a permit and may not operate under this part.

FLA. STAT. § 499.012(1) (2018)
The law also specifies what is required in the application. Rather than quoting the whole of Florida Statute § 499.012(4)(a), I've summarized the key points:
The permit must include:
Name, business name and address, telephone number.
Any other business or trade names used by the person.
Type of business (sole proprietorship, partnership, LLC, etc).
Name and address of all business owners.
"Any other relevant information that the department requires."
The department will consider the following factors in reviewing the qualifications of the persons to be permitted:
Whether the person has been found guilty of a violation of a law (in any juridiction) that directly relates to a drug, device, or cosmetic.
If the person has been disciplined by a regulatory agency in any state for any offense that would be a violation of this law.
A felony conviction under federal, state, or local law.
Past experience in manufacturing or distributing cosmetics.
Suspension or revocation of a federal, state, or local government of any permit currently or previously held for the manufacture of cosmetics.
Compliance with permitting requirements under any previously granted permits.
Compliance with requirements to maintain or make available to officials the records required.
Finally, not getting a required permit for a cosmetic manufacturing business is clearly a violation of the law.
Prohibited acts.It is unlawful for a person to perform or cause the performance of any of the following acts in this state:

(22) Failure to obtain a permit or registration, or operating without a valid permit when a permit or registration is required by this part for that activity.

FLA. STAT. § 499.005(22) (2018)
Florida Regulations
Once the laws are put in place, the departments or agencies responsible for enforcing the laws go to work putting regulations into place with more specific details about how it all is going to work.
In Florida, that responsiblity falls to the Department of Business and Professional Regulation, Division of Drugs, Devices, and Cosmetics. They are ones that write, implement, and enforce the regulations (called "Rules"
in Florida).
Becoming permitted as a cosmetic manufacturer requires several steps:
Pay the initial fees (with the application)
Complete and submit the application
Pass inspection
Renew license every two years (and pay renewal fee)
Fees
A total of $950 must accompany your application fee:
Biennial (every two year) application fee, Non-refundable: $800
Initial application and on-site inspection fee: $150
In the event that you don't pass the initial inspection and the agent is required to return to conduct another inspection, you will likely be charged some fee for return visits.
If you don't go through with the permitting process for whatever reason, the $800 is non-refundable.
Once received, the permit must be renewed every two years at a cost of $800.
Application Form
The Division of Drugs, Devices, and Cosmetics has an official application form (direct link) that must be submitted. Unlike their other forms, this one is not available at present (June 2019) to be filled out online.
The application form consists of 8 Sections, most of which are contact/business details or background ("Have you ever …?") questions. Only Section 7 deals specifically with the actual manufacturing activity. There are only 9 yes/no questions (except the last one). Questions are slightly edited for readability; I have bolded and colored the questions that will probably be the most problematic:
Are products distributed under this permit intended for export?
Will all required records be stored and maintained at applicant's physical address? (If no, provide details)
Will required records be computerized, automated or stored electronically. If yes, will you have a back-up procedure to be able to provide required records?
Do you have labels of your products ready for inspection?
Do you manufacture a product that has a sunscreen (SPF)? (If yes, an Over-the-Counter Drug Manufacturer permit is required)
Do you intend to comply with all Federal and State "Current Good Manufacturing Practices"?
Does the applicant have written policies and procedures as set forth in rule 61N-1.010(6)-(10)?
     If no, provide written explanation
     If yes, provide a copy of each policy and procedure
Have you obtained a copy, reviewed and familiarized yourself with the requirements set forth in Rule 61N-1.010? Failure to comply with the rule is the basis for permit application denial and enforcement action by the department.
What date will the establishment be ready and available for inspection? This is the earliest date the application my be deemed complete.
Inspections
Once you have paid your fee and submitted the application, your facility must be inspected – and pass – before you can start legally making cosmetics.
The inspection criteria are based on general good manufacturing practices. The actual requirements are covered in Florida regulation, which is detailed in FL-61N-1.010 (I downloaded and reformatted the document for easier reading).
If you are unfamiliar with good manufacturing practices, I suggest that you read the regulations and also get a copy of my book, Good Manufacturing Practices for Soap and Cosmetic Handcrafters, which will give you some ideas for how to implement the general guidelines in the regulations.
Frequently Asked Questions
What if I only sell occasionally at craft fairs or farmers markets?
There is no exemption (I checked with the state office by email). If you make cosmetics for sale, you must get a permit.
Can I make soap without a permit?
Yes, probably. The laws and rules apply to cosmetics, the definition of which exempts soap. The Florida statutes and rules don't define the criteria for a soap to be exempt. Assuming Florida is using the definition provided in the federal regulations:
You would NOT need a permit if you were making and selling soap that is the alkali salt of fatty acids (made from lye/oil) AND is only marketed as "soap." (NOTE: the soap could still include additives or fragrance.)
You WOULD need a permit if the soap were the alkali salt of fatty acids, but was marketed with claims that it would moisturize or do anything more than cleanse (the claims would make the product a cosmetic).
You WOULD need a permit if the soap were made from detergent-based surfactants, regardless of whether you claimed it could do anything more than cleanse or not.
Are small batches really considered "manufacturing"?
Yes. If you are making and selling, regardless of the quantity, you need a permit. (It is very unfortunate that there are no small business exemptions in the law!)
If I buy in bulk and repackage, is that manufacturing?
Yes. If you open the package and handle the product, then it is manufacturing.
What if I have someone make my products and deliver to me already packaged so all I have to do is apply a label. Do I need a permit?
Probably. The regulations for drugs are quite clear that you would (if you were making drugs) but the law doesn't specify that for cosmetics. However, it does appear, from the regulations, that they are considering it necessary for cosmetics if you only relabel. You should check – whoever is making your products for you should know.
What if I teach classes to people to teach them to make their own products?
No, a permit is not required (unless there are some requirements for teaching in general). Of course, all your students should be informed that if they decide to go out and start a business they will need to get cosmetic manufacturer permits.
Do cosmetic manufacturing businesses outside Florida that sell to customers IN Florida need a permit?
No. The permits are only required for cosmetic manufacturers located in Florida.
What if I sell only online and only to people outside of Florida?
Yes, still need a permit. It is based on making the products in Florida, not where they are sold.
What about registering the individual products?
The laws in Florida used to required that in addition to the permits, every single PRODUCT had to be registered (before it was sold). The law was changed in 2017 and that portion of it was removed. Individual products no longer have to be registered.
Do I need a permit if you give away other (cosmetic) products with a purchase of soap?
Yes, probably. Generally, the rule is that if purchase is required to get the "free gift" then the gift is actually "purchased". In that case, the cosmetics are being "sold" and are not for personal use only. A permit is required if the cosmetics are manufactured in Florida.
What about a mosquito repellant?
A product that is intended to repel bugs isn't a cosmetic, because it's not applied to the human body to make it more attractive. At a federal level, bug repellents are overseen by the EPA (Environmental Protection Agency). In Florida, all pesticides must be registered with the Florida Department of Agriculture and Consumer Services. Even if they are exempt from registration at a federal level. A cosmetic manufacturer permit is not required.
Does making products for animals need a permit?
No, cosmetics are "applied to a human body". However, if there is any suggestion that the product COULD be used on humans (like a shampoo, for example) then it would be a cosmetic and a permit would be required.
Are permits needed for candles, room or linen sprays, or potpourri?
No. None of those items are applied to the human body and so are not cosmetics.
Are there any other hoops to jump through?
Unfortunately, there may be. Just like any other state, Florida has business and tax regulations that apply to all businesses.
City or County
Depending on the city and/or county you are located in, you may need a business license.
There may also be local zoning restrictions or requirements. Make sure you check before you decide on a location in which to manufacture your products.
Florida Dept. of Corporations
If you have a partnership, LLC, or Corporation, you'll need to register your business with the Dept. of Corporations.
Normally, if you have a business operating under some other name than your personal name, you have to file a ficticious name statement, but it looks like businesss that are registered with the Department of Business and Professional Regulation are exempt (woo-hoo!).
Florida Dept of Revenue
You will probably need to get an Employer Identification Number, even if you don't have any employees. You can use that number for your business instead of your own social security number.
Florida collects sales tax on all retail purchases made in the state. If you are selling retail, you need to get set up with the Department of Revenue to collect and report sales tax.
In Summary
Well, there are certainly some extra requirements to meet in order to make cosmetics in Florida. Whether they are fair or good or reasonable for small busineses making small batches of cosmetics out of safe ingredients is a subject for another time.
Unfortunately, they are in the Florida statutues (law), not just created at the whim of some random government official. In order to change them it literally needs an act of the Florida legislature. Not that it can't happen — it will just take a concerted effort on the part of a lot of people to pull it off.
In the meantime, you'll hear people say that it "doesn't really apply" or that "no one will notice a small business like mine." Maybe that's true, but it doesn't make it right. And it's probably not the best foundation for a business at all.
My best advice is that if you plan to make cosmetic products in Florida, take the time to get educated on good manufacturing practices (because that's really all they are looking for) and decide if you think you can meet that professional standard. If you think you can, then go for it!

Support this site & pay it forward
Helping the handcrafted soap and cosmetic industry has been my passion for nearly 20 years now. With this blog and answering questions sent to me, I try to provide accurate information freely and to assist those making soap and cosmetics to follow the rules and regulations. While others may charge for answering questions or create paywalls to access the data, I will always try to provide the important and necessary information freely to all.
If you feel this information has been valuable to you, helped you, and would help others -- and if you can afford it -- a small payment to help offset the time, effort and cost of providing this information would be greatly appreciated!