[Updated July 18, 2022] I am so pleased and excited to announce release of my new book, Navigating the Rules & Regs: A Practical Guide for Soap and Cosmetic Handcrafters! If you've wondered where I've been the last few months – well, I've been researching and writing like crazy.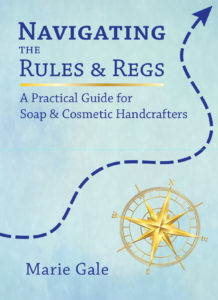 This new book covers labeling, but also the myriad of other rules and regulations you might run into in the course of making and marketing your products. It answers the questions that you didn't even know you had; gives you the information you didn't know you needed.
For example, did you know that…
… the "synthetic mica" used in some blended colors isn't approved as a color additive? It should be listed with the regular ingredients in the ingredient declaration, and should be listed as "synthetic fluorphlogopite"?
… non-cosmetic soap intended for children must be tested and certified before it can be sold–but there is an exemption for small businesses?
… if an employee, friend, or family member tweets or posts about your product, they need to disclose their relationship?
… email you send promoting your products MUST contain a way to unsubscribe and you must stop mailing to them within 10 days if they do unsubscribe (but you can still send transactional emails about an order or their account)?
The list goes on and on! In fact, the book had to be large size (8 1/2 x 11) and over 500 pages to fit everything in. There are over 150 separate topics and checklists to help you figure out what you need to know based on what you are selling or marketing and how you are doing it. There's also an index, so you can quickly locate specific details, a glossary of terms used and defined in the topics, a complete bibliography, and several appendixes of full documents referenced in the book. Each topic also has references listing the primary sources for the data so you can learn more if you need or want to.
Purchase Options
The paperback edition is available for purchase at Amazon.
Special Signed & Numbered Hardbound Limited Edition
Based on earlier requests, I am offering a special limited & signed HARDBOUND edition of the book. It can be purchased directly from me here.
Details of all the various purchase options are available here.