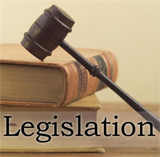 On March 21st, 2013, Rep Jan Schakowsky (D-IL) introduced the Safe Cosmetics and Personal Care Products Act of 2103.  The text is now available at govtrack.us. It has been referred to to the House Energy and Commerce Committee and the Committee on Education and the Workforce.
This bill does contain provisions that will affect handcrafters and small businesses when it comes to labeling, reporting and websites selling cosmetics.
However, it is interesting to note that govtrack's prognosis for the bill is:
1% chance of getting past committee
0% chance of being enacted.
Of course, govtrack is looking at past statistics, which don't take into account the dedication and perseverance of the bill's authors. Anything can happen in Washington.
As you can see in the review of the bill (below), there are provisions for small businesses that will exempt all handcrafters from many of the more difficult provisions of the bill.  Since it's now in committee, my opinion is that a wait-and-see approach is the best action.
BILL SUMMARY
Regardless of the prognosis by govtrack and my personal opinion, I thought I would give a brief summary of the proposed changes to the Food, Drug and Comsetic Act that have the potential of affecting those who make handcrafted soap and cosmetics.
Incidental Ingredients
Currently ingredients that have no technical or functional effect in the cosmetic but are present because they were ingredients of an ingredient in the cosmetic, or processing aids are considered "incidental ingredients".  These would need to be included in the ingredient declaration.
Components of flavors, fragrances or preservatives
Components of flavors, fragrances or preservatives would need to be included in the ingredient statement.  Obviously for that will require that suppliers and manufactures of flavors, fragrances or preservatives will have to provide that information. I expect that the flavor and fragrance industry will be strongly opposed to this provision.
Business Registration
Businesses "engaged in brings a cosmetic to market" will need to register with the FDA, except microbusinesses with gross receipts of less than $2 Million.
Fees for registration would only be imposed on business with annual gross receipts that exceed $10 Million.
Adverse Reaction Reporting
All adverse serious adverse reactions to a cosmetic would need to be reported.  The definition of a "serious adverse effect" would be modified to include not just death or life-threatening incidents, but also those that require short- or long-term hospitalization or require medical or surgical intervention.
Ingredient Declarations
All ingredients would be required to be listed in descending order of predominance.  This appears to eliminate the alternative listing method of putting ingredients present at less than 1% in any order after all the ingredients present at more than 1% and several other ingredient listing alternatives.
Contaminants must be listed in the ingredient declaration.  "Contaminants" are defined as "unintentional substances" and include instability of the packaging or harmful byproducts of the manufacturing process.
Nanoparticles have additional requirements for how they are presented in the ingredient declaration.
No ingredients could be exempted from listing on the ingredient statement as  "trade secrets."
Website Vendors
Websites that sell cosmetic products would be required to display the ingredient list for cosmetic products being sold.
Good Manufacturing Practices
The FDA would need to provide Good Manufacturing Practice guidelines for cosmetics.  They would be required to "consider how such practices will impact small businesses."
Cosmetic and Ingredient Safety Information
Brand owners of cosmetics would need to submit safety information on ingredients in the cosmetic and the cosmetic itself.  Supplier information would be acceptable and suppliers would be required to provide the necessary information. NOTE: There doesn't appear to be a small business exemption on this provision of the bill.
Lists of Ingredients
Over the next several years The FDA would be required to place cosmetic ingredients on one of three lists:
Prohibited and restricted list
Safe without limits list
Priority assessment list
There are provisions for how many ingredients must be evaluated over different periods of time until all ingredients used in cosmetics have been evaluated.
MY PERSONAL OPINION
The intent of this bill is to ensure the safety of cosmetics in the marketplace.  I can't argue with the intent … I strongly believe that cosmetics should be safe. That's why I started making my own soap and cosmetics in the first place.
Comparing this bill with bills that were proposed in previous years, it appears that the needs of small businesses are being addressed to some degree – which I think is a good thing.
From my years of experience with labeling and good manufacturing practices for those of us who make soap and cosmetics on a very small scale (relative to the "big guys"), it looks like – should this bill be enacted – the burden of implementation will fall to those who are creating ingredients (not using known safe ingredients and food ingredient like we generally do), the inventors of flavor and fragrances, and the FDA.
My goal is to provide information to those who make handcrafted soap and cosmetics so they can follow the regulations to correctly label their products, and implement good manufacturing practices in their production.  If or when the laws change, I'll do everything I can to ease the transition.