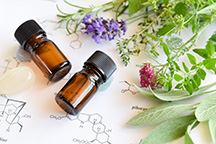 I recently came across an in-depth and detailed article published by ConsumersAdvocate.org which reviewed and rated 11 different essential oil companies. The authors found adulteration in 30% of the EO samples analyzed!
Eleven companies were randomly selected for review. The website and materials of each company were reviewed for factors pertaining to:
Quality & Testing
Consumer Education
Safety
Sustainable Sourcing
As part of the Quality & Testing, the authors purchased samples from each company of lavender, peppermint and tea tree oil which they sent for analysis. Thirty samples were analyzed; 9 came back adulterated.  I especially like the fact that they published the actual GMS test results for the essential oils they had tested rather than relying on an explanation.
The article is a good read – not just for information on the specific companies, but also for insight into how to evaluate factors that could (or should) affect your essential oil purchasing decisions.
When choosing EOs for personal use or for use in making handcrafted soap or cosmetics, quality and purity is essential.  Following that, an understanding of the supplier gives insight into whether this is a company you want to do business with.  Finally, price is always a factor – but should not be the only factor.
If the company you want to purchase essential oils from is not on this list of companies reviewed, consider performing your own review on the supplier and its products and policies before purchasing.