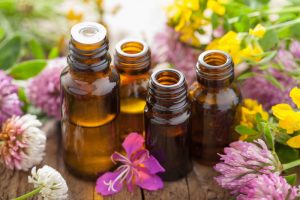 When you say that an product ingredient can heal, you are making the same claim for the product itself, so it  becomes an unapproved new drug.
As a perfect example, the FDA issued a warning letter to Sevani Botanica in mid-July in which most of the cited issues had to do with statements made about the essential oils in the products. Granted, the letter says there may be other issues (and looking at their webiste, I can see there probably were), but those were the ones they thought important enough to note in the letter.
From the FDA warning letter:
The claims on your website establish that the products are drugs … because they are intended for use in the diagnosis, cure, mitigation, treatment, or prevention of disease and/or articles intended to affect the structure or any function of the human body.

Advanced Omega Night Repair Serum

"Rosewood, and Neroli essential oils offer …cellular regeneration…"
"Evening Primrose: EFA's reduce inflammation and protects from accelerated aging."
"Neroli blossom: encourages collagen production…"

Eye Repair Age Defying Eye Crème

"Lotus blossom, Neroli and Rose: anti-inflammatory, regenerative…"

Ageless Eyes Revitalizing Eye Serum

"[E]ncourage collagen production…"
"Evening Primrose: anti-inflammatory…"
"Rose Geranium: strengthens capillaries to minimize discoloration"
"Helichrysum: Anti-inflammatory…"

Hyaluronic Wrinkle Defense

"Ideal for Rosacea too!"
"MSM: feeds the formation of collagen and elastin, preventing wrinkles, age spots and redness."
"Panthenol (B5): anti-inflammatory…"
FDA Still Stepping Up Enforcement
I posted that the FDA was increasing enforcement activities in 2013 (FDA Cracking Down On Cosmetic Product Claims) and again in 2015 (FDA Warning Letters – Drug Claims for Cosmetics). The FDA is still on trend with increased warning letters – up through mid-July this year there have been 9 warning letters sent out concerning drug claims made for products marketed as cosmetics. That's equal to the total number of similar warnings sent for all of 2015. No doubt about it, the issue is NOT going away.
Yes, it is "only nine" so far this year.  That's is a low percentage for the number of small and large cosmetic companies out there, but it is still a marked increase over previous years, giving an indication of the FDA's focus.  I don't have any numbers or information on state-level enforcement activities but I expect that they are increasing as well.  (If you have any local level enforcement stories, please email me or post in the comments!)
What to Expect
Bottom line, expect more enforcement actions at both the federal and local levels. As funding for federal and local agencies increases, so will the amount of enforcement actions; certainly if they had more staff and more funding, the FDA would be doing more enforcement!
There has been legislation to increase cosmetic regulation introduced every year for at least the last 7 years.  This being an election year, the current bill will likely die a quiet death in committee.  However, we can expect some new bill concerning cosmetics will be introduced during the next legislative term. The Handcrafted Soap and Cosmetic Guild has been doing an excellent job with legislative advocacy, so we have hopes that whatever legislation comes up it will have minimal impact on the handcrafted soap and cosmetic industry.
If you make soap or cosmetics and aren't yet a member of the HSCG,
consider joining
in order to help support their legislative actions. You'll receive excellent member benefits to boot!
Keep in mind though, that even if any new legislation has exemptions for smaller businesses in terms of burdensome regulations (such as registration, reporting and fees, for example), it will still be likely to include provisions for increased funding.  With increased funding will come increased scrutiny, which will affect all businesses, large and small.
What to Do
As with most things, an ounce of prevention is worth a pound of cure.  
First and foremost, make sure that you understand the concept of intended use, and that you have clearly determined – for yourself – that the intended use of your products is within the legal scope of your production ability.  In other words, you shouldn't be making drugs (either approved or unapproved) if you aren't licensed, registered and inspected as a drug manufacturer at both the federal and state level.
If you try to get sneaky, thinking there is some way to tell your customer that the intended use of your product is to "treat acne" without the FDA figuring it out, it's not going to work.  The FDA and most of their agents have been at this a lot longer that most of us have, and they've seen all the tricks.  Trying to get sneaky also means you're likely to be looking over your shoulder (or the internet equivilent) waiting for the hammer to drop. Who needs that kind of stress?
When it comes to cosmetics and soap, check your labels, website, brochures, signage and other "labeling" to make sure that what you say about your products and their ingredients falls under the definition of a cosmetic (or soap).  Rewrite your copy as needed so you know that if the FDA ever did decide to take a look, you'd pass with flying colors. You'll surely sleep easier.