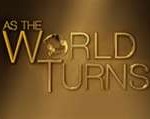 As the World Turns, Proctor and Gamble's last soap opera is going off the air with it's last episode (the 13,661st!) to air in September. Their other remaining soap opera, Guiding Light, was canceled in April, 2009. That ends their 76 years in the soap opera business.

Actress Eileen Fulton, has been playing the same character (Lisa Grimaldi) on the soap for 50 years! Some of the more famous alumni of As the World Turns include:
Courtney Cox (1984)
Jason Biggs (1994-1995)
Dana Delany (1981)
Thomas Gibson (1988-1989)
James Earl Jones (1966)
Mary McDonnell (1980)
Julianne Moore (as two characters, 1985-1988 and 1986-1988)
Parker Posey (1991-1992)
Meg Ryan (1982-1984)
Martin Sheen (1965-1970)
Marisa Tomei (1983-1985)
Steven Weber (1985-1986)
While I never watched As the World Turns, it seems sort of sad that such a long running show is being canceled. I wonder what Proctor and Gamble will turn to next?