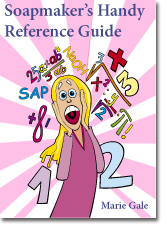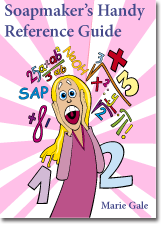 Not one to rest on my laurels, I've produced another book for soapmakers (also for cosmetic makers, even though that's not in the name).  The Soapmaker's Handy Reference Guide was released at the Handcrafted Soap & Cosmetic Guild's 2013 Annual Conference last week and was very well received.
This little book contains the formulas, facts and stats that come in super handy when you're in the middle of making product. And it's printed on water-proof, oil-proof paper, so you can pick it up and use it when you're deep in the middle of work.



In it you'll find:
conversions for many different units of weight, volume (liquid), length and temperature;
math calculations (fractions, decimal and percentages) and math formulas
basic labeling requirements and how to calculate the size of your principal display panel and text sizes for your net weight and ingredient declarations
lye and water calculation formulas (for both NaOH and KOH), superfat calculations, lye discount and a SAP chart for most common (and uncommon) oils and fats.
There's also a place to record your own notes for easy reference.
The book is $8.95, with free shipping in the US (by US media mail).  You can order the book on my website.